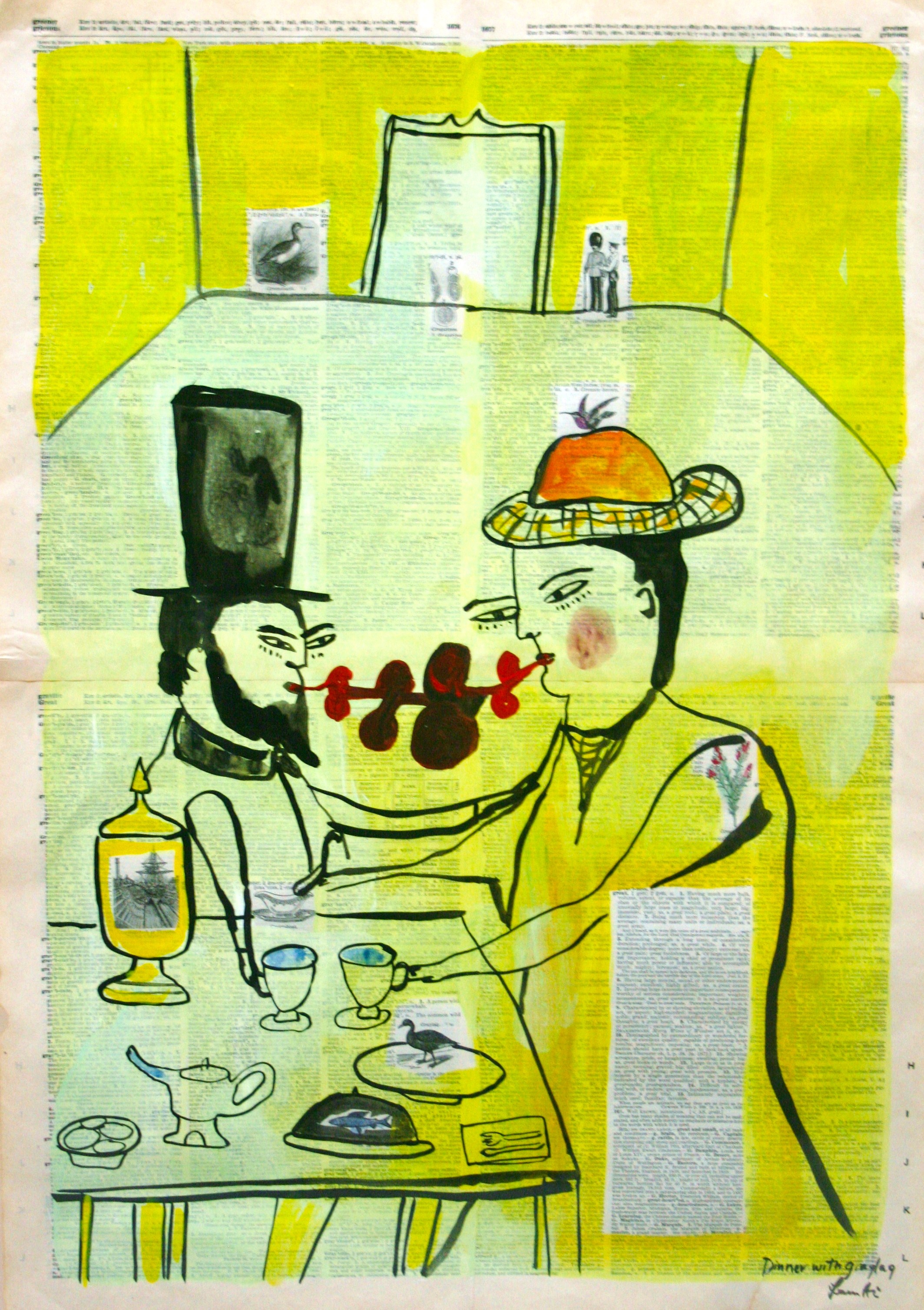 "The Funny Ones" selections from the Diane and Sandy Besser Collection / Opening Reception Friday April 20th, 2012,
"The Funny Ones" humorous selections from the Diane and Sandy Besser Collection
April 20 – May 20, 2012  in E&W 130 W. Palace 2nd Fl. Gallery
Opening  Reception Friday April 20, 2012, 5:30-9:00
Comedy Performance by Matt Besser, founder of The Upright Citizens Brigade, and auction of selected work,
Saturday April 21, 2pm-5pm.
Free seating for the performance and auction 1st come 1st serve.

Some VIP seats will be set aside for $30, (please RSVP gallery)
The Sanford "Sandy" Besser collection is known for it's daring breadth and width and its often humorous qualities. Sandy collected art because the difficult, unusual, humorous and strange side of life always attracted him.
Sandy was known for being all those things himself.
His collecting delight — perhaps mania is a more accurate word — began early, with items ranging from swizzle sticks to postcards. Later, he and his wife of 36 years — Diane Pettit Besser, collected avidly but with keen eyes. Their collection was weirdly eclectic, huge, and it never stopped growing.
"Sandy was interested in stretching the known and predictable," Tom Joyce, an artist and close friend said. "He was interested in supporting an artist to the degree they were willing to jump the track for him — artists at a transitional stage in their careers".
"He gave you permission to dare."
Sandy was drawn to artists with a sense of humor and this show "The Funny Ones" will focus on some the most absurd and humorous pieces in the collection.
His son Matt will help organize the exhibition, which will focus on mostly 2-D work from the collection, with also some sculptures interspersed.
The auction will feature approx. 5-10 pieces from the collection, some with, some without reserves.
Matt Besser, an accomplished comedian and performer, the son of Sandy Besser, is a founding member of Upright Citizens Brigade (UCB), which started out as a Chicago sketch and improv comedy group in 1991, earning a cult following from the start. Original members included Ian Roberts, Ali Farahnakian, Adam McKay, Rick Roman, and Horatio Sanz. In 1996, the UCB relocated to New York City. In NYC, they made three seasons of their sketch-comedy series Upright Citizens Brigade on Comedy Central from 1998 to 2000.
The cast consisted of Besser, Amy Poehler, Ian Roberts and Matt Walsh. It originally included a voice-over by Del Close. Nearly 10 years since its cancellation, the show continues to maintain a large following and is often hailed as one of the great cult sketch shows. Comedy Central has released the first two seasons on DVD, it is not known when the third and final season will be released.Since then, Besser and the UCB moved on to other projects and opened comedy theaters in New York City and Los Angeles. He was the creator and co-star of the Redman & Method Man MTV hidden camera prank show Stung. In 2004 created and starred in his second Comedy Central show, Crossballs which mocked news debate shows by pitting fake experts (played by Besser and other comedians) against real people.
Besser has appeared in films such as Walk Hard: The Dewey Cox Story, Martin & Orloff (written by UCB cohorts Roberts and Walsh), Year One, Undead or Alive, Drillbit Taylor, and Junebug, in addition to a number of sitcoms.
The comedy set is slated to begin at 2:30, and Auction at 4:00
Sources: The New Mexican and Wikipedia